In December 2022, the My Leviton App was updated and introduced the Dashboard feature. This moved the Load Center options to the new Snapshot Widget. To learn more about the Dashboard, please read the article What Is the My Leviton Dashboard and How Do I Use It?
Prior to the change, the Load Center was located at the top of the Devices Screen: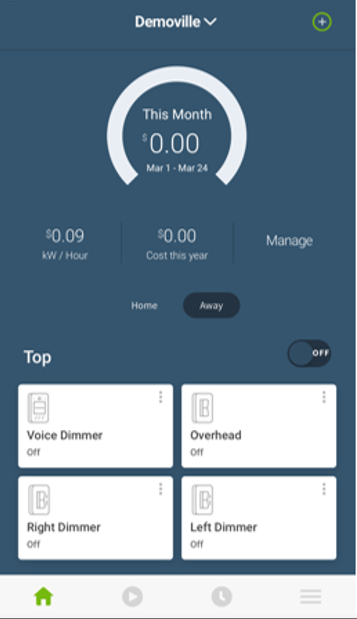 Most Load Center Information can now be found in the Dashboard Whole Home Consumption widget.

To move or customize the widget, please read the article How Do I Customize The My Leviton Dashboard?
With the release of the Dashboard, new features were added for Load Center users.
The Snapshot Widget adds the ability to see the number of Smart Breakers that are actively consuming energy. The Total Power tile shows a total of all power usage reported by Smart Breakers and the LSBMA Smart CTs. If any breakers are tripped, they are shown in the Triggered Breaker tile.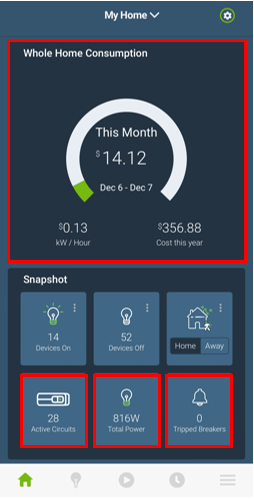 Two other Load Center widgets are available in the Dashboard.
Breaker consumption provides a quick view of the top 5 Smart Breaker energy consumers over the past 24 hours, week, month or year. Use the dropdown to choose the timeframe.
The Event Log offers the ability to see Load Center history
To access the Panel View, switch to the Devices screen:

At the bottom of the Devices screen, you will find an icon for the Load Center: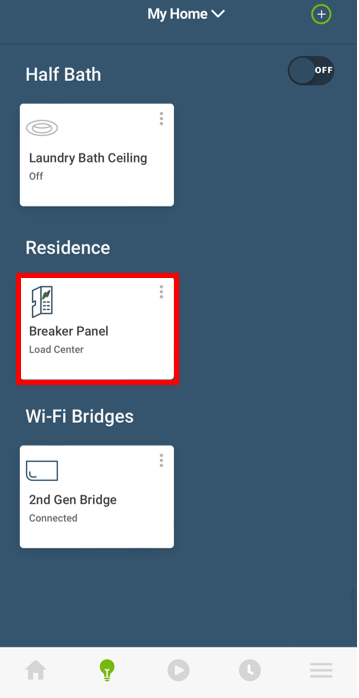 To access the Load Center screens including the Panel View, press the three dots in the upper right corner: