Matter support will be added to existing Decora Smart Wi-Fi 2nd Gen Devices throughout 2023. The first devices to receive Matter support in early 2023 will be the Wi-Fi 2nd Gen D26HD Dimmer and D215S Switch. Additional Wi-Fi 2nd Gen devices are planned for future updates.
Adding Matter Support To You Decora Smart 2nd Gen Wi-Fi Device:
The below step-by-step update instructions will show how the firmware update process will work and how to obtain a Matter QR code using the My Leviton app. Once the update is complete, your device will be ready to join any of the available Matter enabled controllers. Your existing cloud integrations including Google Assistant, Amazon Alexa, SmartThings, IFTTT, August, Schlage will not be impacted. Once updated, you can retrieve your Matter pairing code at any time under "Device Settings" in the My Leviton app
This article assumes your 2nd Gen Decora Smart Wi-Fi device is already connected to the My Leviton app. To connect your device, please follow the article Add a 2nd Gen Wi-Fi Decora Smart® Wi-Fi Device to the My Leviton App
Updating firmware:
Start with your device enrolled in the app. Press the menu button in the lower right corner.
Press System Updates.
Depending on the current version of firmware you MAY see the following prompt to update to firmware 1.4.8. If your firmware is newer than 1.4.8 you may see the System Updates screen (next step).
When the 1.4.8 Update is applied you will return to the System Updates screen. Follow the following instructions to advance to 2.1.0 or later.
System Updates Screen:
Press 'Check For Updates'
Press OK when prompted for 'Cloud Firmware Check'
The screen will update to say ' Your devices are downloading updates'
At this time your switch or dimmer is downloading the Matter firmware. The process can take several minutes. If you don't want to wait you can return to this screen in 10 to 15 minutes or if you leave your app active it will show the Update when available.
The following note is important if you are a HomeKit user
Moving forward the Apple Home eco-system will be based on Matter

When you enable Matter the device will be removed from HomeKit
Your device will need to be re-added to the Apple Home app using the Matter pairing code provided by the My Leviton app. Controlling Matter accessories with the Apple Home App and Siri requires a HomePod, HomePod Mini, Apple TV HD, or Apple TV 4K

Previous HomeKit schedules and routines will need to be recreated after switching to Matter
Press Continue: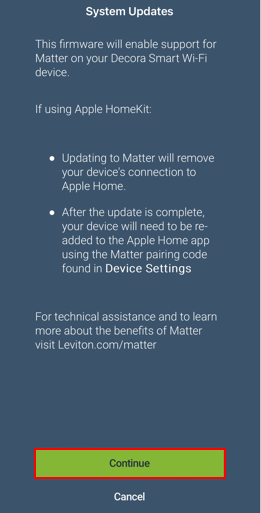 Matter QR Code:
With you device updated to firmware 2.1.0 or later press the 3 dots in the upper right corner.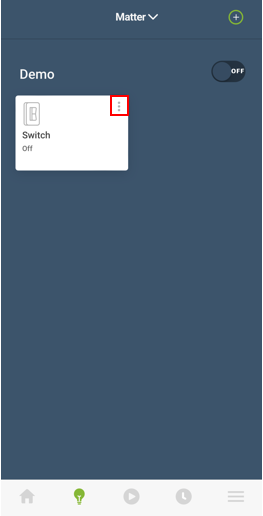 Choose Device Settings: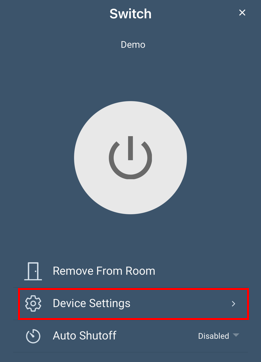 Choose Matter Pairing Code:
Note, if this option is not available the firmware has not been updated to 2.1.0 or later.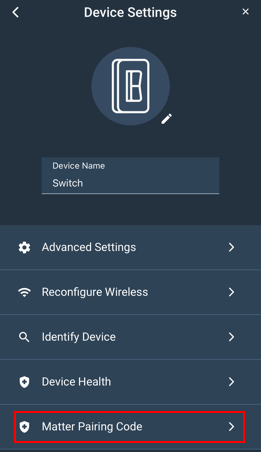 The QR code for your device will appear on the screen:
Each QR code is unique to each device
Pressing save allows the code to be saved as an image or use your phone to e-mail or message the code to another device
The QR code is used with any Matter enabled controller