The Leviton Smart Load Center can send notifications for the entire load center or individual breakers. Start by configuring notifications for the whole Load Center.
Enter the Load Center Settings: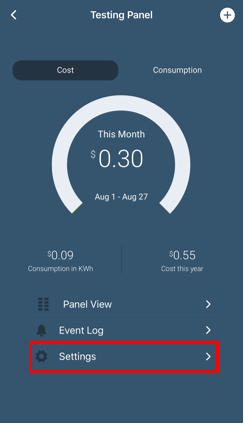 Choose the Notifications option: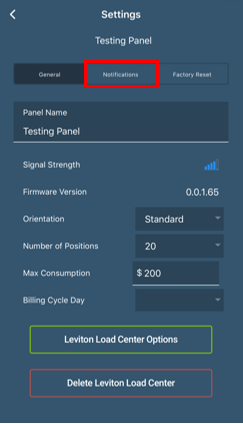 Choose how you with to be notified.
The E-mail option will send an e-mail to the address associated with you user account.
If you enter a mobile phone number you can receive SMS notifications
Use the switches on the right to choose the notification options you wish to use and enable

Now that the notification options are setup for the Load Center you can setup options for individual breakers.
Navigate to the panel view and select a breaker:
Scroll down to the bottom of the breaker general options.
Choose the notification type
Choose the duration the breaker needs to record excess or no current
Choose the length of time the condition must remain true prior to a notification

Here is an example of an e-mail notification: